In the wake of Google Assistant, Siri and Amazon Alexa, Conversational AI continues to remain high on the agenda of business leaders. Not least for its efficiency, but also for its prowess in delivering a more efficient, seamless customer experience. And there's evidence for that. Research by Gartner found that organisations that have deployed Artificial Intelligence (AI) in some form grew from 4% to 14% between 2018 and 2019.
Businesses have begun to implement Conversational AI and chatbots more frequently in pursuit of cost-effective ways to optimise. It seems as if the days where offshoring customer service agents to other countries is beginning to see its end. According to a study by Usabilla, 54% of customers said they would 'always choose a chatbot over a human customer service rep if it saved them 10 minutes.'
From a customer's perspective, it's easy to see why they feel this way. They want their problems solved, fast and on their terms. Businesses have become mindful of that, and therefore invest heavily on improving the customer experience through chatbots and virtual agents. They're accessible, predictable, respond immediately, and (thanks to machine learning technologies) grow smarter with every interaction.
Conversational AI and the compelling business case
From a business's perspective, chatbots can provide a competitive edge – and the benefits extend beyond the obvious. The needs and desires of customers move faster than businesses can keep up with, which is why data becomes such a powerful tool. It enables companies to mine valuable insights on their customers in order to anticipate their needs and drive growth. This is something that cannot be achieved by outsourcing to an offshore call centre.
Using chat bots however, can achieve that. By optimising with the customer experience as a priority, Conversational AI can provide more of this valuable data. When a customer interacts with a chat bot, the organisation is immediately afforded valuable data about the customer. The conversation is logged, recorded and analysed to glean a greater understanding of the customer. This understanding is further amplified by the fact that chat bots are available 24/7 and remember every conversation they have – an invaluable asset to all businesses seeking to improve the customer experience; offering them a clearer picture of use cases. This is what we are demonstrating in the infographic below.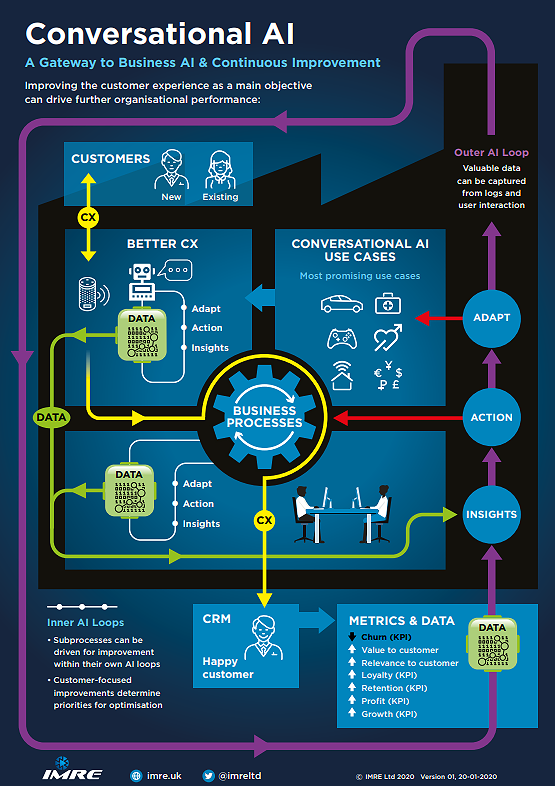 As you can see in the infographic, this data provides insights, which provokes action, and therefore encourages adaptation. That data that chat bots provide can be a boon to the business units that are responsible for measuring customer experience.
Chatbots are a Trojan horse for customer experience heads
Chatbots are deployed primarily because they are an always-on, fast-responding tool. But their secondary benefit – of being able to store, record and analyse conversational data, mean that they are a Trojan horse for these same business units that oversee customer experience. When this chatbot data is used in tandem with existing customer data streams (such as descriptive or behavioural data), organisations will have a 360 view of their customer and can respond to or predict their needs faster, and at scale.
When using Conversational AI effectively, organisations can drive performance across a host of different metrics. Some of the most important KPIs that are on every business leader's agenda will get addressed. Loyalty (a key behavioural outcome of a superior customer experience) will be increased, because customers find the experience valuable. Loyal customers mean they are less likely to switch to one of your competitors, which can turn them into advocates for your company. Having more loyal advocates will, in turn, result in more growth.
What are the implications?
This is a growing field. Servion Global Solutions predict that in 5 years time, AI will power 95% of all customer interactions. And while the benefits of Conversational AI are abundantly clear, one of the biggest barriers to adoption is a lack of in-house skills. We created our infographic to demonstrate the pivotal role that chat bots can have in driving business outcomes. Without the insight that chat bot data can provide, companies are at risk of making decisions that can be harmful to the customer experience, and thus to brand perception.
If you're interested in learning more about Conversational AI, get in touch with us to find out how our data-driven tools can make your business more efficient, improve customer satisfaction and drive growth.
Take action, get Conversational AI working for you.