Use AI techniques to generate leads & improve your sales
Start with your data, gain meaningful insights, and take appropriate action
Much has been written and said about artificial intelligence, machine learning and data driven algorithms.  Perhaps you might be feeling left out, or that your company is not exploiting these new technologies in the best possible way or for maximum gain.
Where do you start, how can these new methods be applied to your business? These are all great questions and we believe that these new techniques can be demystified and applied to advantage.
In simple terms, all of the tools in your digital marketing mix will generate data. The trick is to find, collect, analyse and gain insights from these in order to prepare a plan of action. At the core of the execution strategy will be a set of tactics that can be combined with your marketing mix to help improve your lead generation and subsequent sales. Success, therefore, can be distilled into doing the right things, at the right time and for the right reasons.
AI Will Change Your Marketing Forever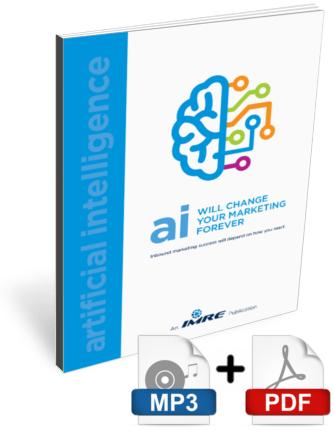 This guide explores how the business world (much like other aspects of our lives) will be greatly affected as technology such as AI becomes common place.
Along with public events, open to anyone with an interest in AI and Futurism, we can provide tailored events delivered exclusively to your organisation. The 'unconference' style at these events ensures high levels of delegate participation.
Engage with a team that will work for you
Get your inbound marketing, your website and your data aligned with your brand
At IMRE, our skilled marketers are ready to help you leverage the true power of inbound marketing & web. By combining your brand identity and current marketing efforts with well-established inbound concepts and a simple yet effective plan of action, we can deliver the 21st century brand experience that you and your customers deserve.
Are you looking for a trustworthy partner, able to offer you all the support that you need to go from where you are to where you want to be? We would be delighted to discuss your next project, please call us on +44 1296 821919