Get Familiar With These Concepts as They are Closer Than You Might Think
Over the past decade, the world of inbound marketing has been dominated by a series of new trends, ranging from automation and video content to mobile applications and digital assistants.
But since yesterday's trends cannot be used as indicators of tomorrow's marketing, we have recently taken a look into the "crystal ball" in order to get some informed ideas about the areas that will affect inbound marketing in 2017 and beyond. Here is what we found out.
Artificial Intelligence
Artificial intelligence (AI) is generating significant evolution across the inbound marketing industry. In a nutshell, AI can completely transform a business, whilst enabling it to provide a more positive and streamlined user experience.
What's more, pairing AI with tools like chatbots can help businesses make positive experiences more meaningful. Imagine complementing your website with a chatbot that can provide exactly the information, products or services your customers are looking for, whilst collecting data about their likes and dislikes.
Using AI in conjunction with different tools along with Big Data and Deep Learning methods to find out what people want will allow you to come up with better products and services, which specifically address your customers' needs and wants.
In order to pile up all the information they collect and get a clearer "picture" of human behaviour, many technology pioneers are currently applying different concepts relating to Deep Learning. As an example, Amazon uses Deep Learning to help its customers decide what they want to purchase, Google uses it in its voice and image recognition algorithms, and MIT to predict our "digital" future.
Big Data
The digital transformation of inbound marketing is happening right now, as you read these lines. Big Data is an essential part of this transformation.
A very important point is that Big Data is no longer just about collecting information. Making information useful is what will help you understand your customers better and get closer to them.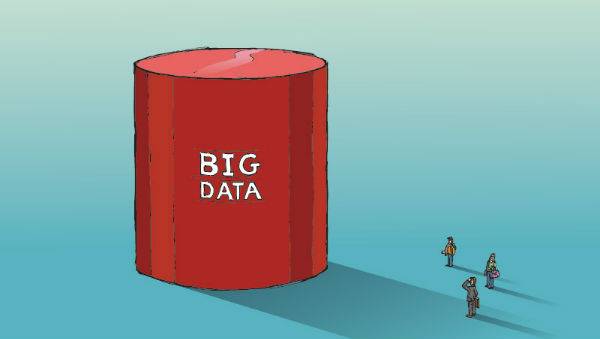 Turning data into meaningful information can give your business the opportunity to embrace a more quantifiable approach to inbound marketing. By using Big Data the right way, you can (finally!) eliminate guesswork, replace "real-time" with "right-time" marketing, and make more informed decisions, according to relevant, accurate, and "real" information collected directly from your current and potential customers.
When faced with questions like, "What features should we include in the new version of our website?", your answer will no longer be, "Well, let's try some new features and see how it goes", but "We'll use the set of features that performed better in the A/B test".
Internet of Things
The Internet of Things, or IoT, enables marketers to go beyond regular "mobility" concepts and leverage the power of billions of connected devices.
Thanks to responsive design, we can now create websites and content that automatically adapts to different screen sizes and orientations. In a world governed by computers, phones, tablets, wearables, smart TVs, cars and homes, providing versatile content is the way to go when it comes to offering a superior, streamlined, and consistent user experience.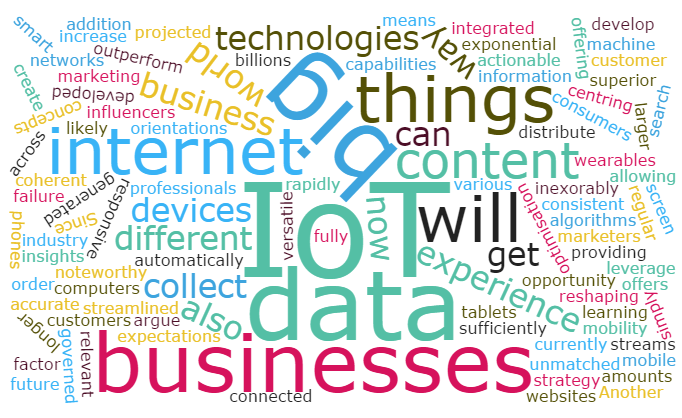 And as Google and other search engines currently use mobile optimisation as a ranking factor, centring your inbound marketing strategy on the IoT is a sure-fire way to propel your business forward.
But the IoT is not just a one-way street. In addition to allowing businesses to distribute content in various forms across different networks and devices, and provide a more coherent, fully integrated customer experience, the IoT can also be used to collect more data.
In fact, leading industry influencers argue that the IoT will lead to a huge increase in the amount of data being generated. As the IoT offers a major, unmatched opportunity to collect and process larger amounts of relevant and accurate information than ever before, new AI and machine learning algorithms will need to be developed and peered into data streams for businesses to get actionable insights. This means that Big Data will get not only bigger but also "smarter".
Another noteworthy point is that business professionals must act now if they want to make the most of the IoT, Big Data and AI. Since these technologies are inexorably and rapidly reshaping our world, businesses that fail to develop their capabilities sufficiently in order to meet their customers' expectations are more likely to face a future of failure. That is simply because consumers tend to "punish" the businesses that fall behind.
What's the worst that could happen? As the IoT, Big Data and AI technologies are projected to grow at an exponential rate, these businesses will no longer be able to catch up and outperform their peers.
Social Selling
Entrepreneur defines social selling as a "powerful strategy" any business can adopt in order to build brand awareness and credibility, attract talent, gain new customers, and sell products and services.
Nowadays, the tried-and-true concepts revolving around social media allow us to take a step forward into the future and make the most of social selling.
By monitoring social media platforms and listening to what people say, you will not only be able to engage with your customers on a more personal level and get them to know, like, and trust your brand; but also to stay abreast of topics and reach out with timely solutions to their most pressing problems.
Another important part of a social selling strategy consists in using applications that allow people to purchase products or services on social media platforms with just one click, without switching tabs or apps.
Imagine scrolling through a Twitter feed and coming across a tweet about a product you want, at a discounted price. You press the "buy" button, enter the details required, and you're done. That's quite cool, isn't it?
Inbound Marketing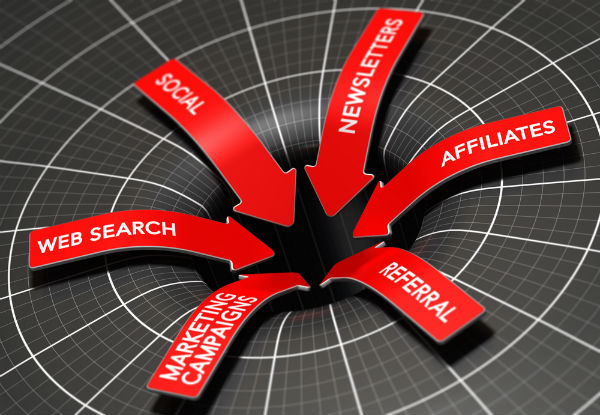 Technology is changing rapidly. To keep up, inbound marketing methodology must evolve with it. Some key trends you should keep an eye on these days are:
Relevant visual content, such as images and videos, which are expected to lead to more purchase decisions than any other type of content. After all, "we are visual creatures (…) and that is why the future of search is visual", as confirmed by Moz. Whilst using "visuals" can help you drive customer engagement, content must also be personalised in order to meet the expectations of each of your personas, across different mediums.
Virtual/augmented reality (VR or AR), which is currently used by the world's most valuable brands, according to ZDNet. Whether we talk about 3D product demos or interactive ads, VR is already present across different industry sectors, ranging from automotive, retail and real estate to education, healthcare and marketing.
Conversational search, which is now possible thanks to voice-activated digital assistants like Google Assistant, Siri, Alexa and Cortana. In addition, Google is planning on making constant algorithm changes to provide more accurate results, based on user intent.
Now, let's look at five major areas you should actively integrate into your inbound marketing strategy in order to achieve optimal results.
Website – "Inbound" websites are a relatively new concept for many business professionals. However, they have already gained a lot of ground. Unlike "traditional" platforms, "inbound" websites can be entwined with different marketing and sales strategies, which means that they can deliver a more personalised and streamlined customer journey.
Hosting – "Inbound" websites are hosted on platforms that support growth-driven design. As growth-driven design primarily focuses on functionality, opting for an "inbound" website can help you effectively prevent a series of problems, such as design that gets outdated within months after updating it; ineffective marketing/lead generation strategies; and the inability to track meaningful analytics.
SEO and SEM – A few years ago, a marketing professional would have told you that SEO and SEM are all about keywords and inbound links. But Google has gotten smarter. As a result, most businesses only have two options: adapt or die. To survive (and even thrive), a business can no longer afford to remain passive or ignore algorithm updates like Penguin 4.0 and Possum.
CRM – According to Gartner, CRM software market is predicted to grow to $36 billion by the end of this year—an increase of $14 billion in just 4 years. The main reason for the increase is that CRM systems has already helped thousands of businesses to perfectly align their inbound marketing with their sales strategies, offering them an unexpected opportunity for improving business performance.
Analytics – Proving the ROI resulting from marketing activities has become more important than ever before, according to a recent survey published by HubSpot. Some of the indicators you can track in order to measure the success of your inbound marketing efforts range from the overall performance of your website, landing pages, email campaigns, and social media reach to content and keyword rankings, cost per lead, and last, but not least, conversion rates.
In conclusion, developing the right inbound marketing strategy and complementing it with the right tools can help you offer your customers more value along with a more streamlined experience. This, in turn, will boost your conversion rates and ROI.
But coming up with a truly lucrative inbound marketing strategy is often confusing and frustrating. To save yourself the trouble, please feel free to get in touch with our marketing professionals who are ready to help you turn your business into a memorable brand.