After all the hue and cry about the new cookie law and its compulsory enforcement from May, it is surprising that there is still a huge question mark lurking in the background, while the cookie policies still seem to be tucked away safely in some obscure corner of most websites.
Despite the best efforts of the ICO to protect the web user's privacy and shield them from the snare of behavioural targeting, why is it that most of us are still dubious about implementing the new reform? Is it just another one of those complicated legislations that is to find its grave after rustling up a stir?
Well, it goes without saying that the cookie law is confusing and complicated and it is far from easy to get your head around the whole thing. But, I have to admit that despite the fact that it is a bit ham-fisted and seems to be missing the barn door, the new legislation does put light onto the dark side of the internet marketing game.
Lighting up the darker side
The cookie law isn't just all about cookies. The real target of the legislation is the online profiling that goes on behind the scenes. And if not anything else, the law seems to have been successful in drawing the average user's attention and alerting him to this bit of online marketing that he is largely unaware of.
For instance, there are companies such as comscore and sharethis.com. They give you free tools such as social media buttons, and you happily paste them on your website. But what you do not realise is that these s harmless looking little cuties can get all the visitors to your websites tracked without their knowledge. There is a big database up in the sky that keeps information on your habits.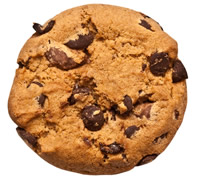 You look up a site for a pair of sports shoes, and the next time you search for something else on some other site; you are bombarded with an array of adverts on deals for the shoes you were looking for. Now, the average Joe does not wait to think how they managed to find out what he wanted. He just does not realise that he is actually being profiled by third party advertisers who are using information gathered by the cookies on the website he had visited.People really do not realise what is going on. But once you explain it to them, they get quite upset and sometimes very angry. Also unknown to many of us, it is sometimes these beacons, social media buttons etc. that are the culprits behind the slowing down of our systems.
There are quite a lot of other tricks that these unassuming little cookies have up their sleeves. To help our clients get an overall picture of what exactly the cookies do, we have put together a brief guide on cookies and the cookie law. Please see here for our guide.
I must admit that like many others, I had started off thinking that this was another useless bit of mumbo-jumbo that has come out of Brussels only to be enforced in typical UK fashion (where UK would be the only one to enforce this while everyone else ducks out). But after having had the opportunity to audit several customer sites, I wouldn't call myself a convert, but I firmly believe that it is worth taking the whole cookie affair a bit more seriously.
I would say, the idea of ensuring user agreement on a site to site basis seems a bit silly, as it is not hard to predict that most people will not bother. It would have been a lot more sensible to go for an application such as donottrack plus or a solution that is browser based. But, the cookie law is certainly not to be dismissed without a second thought.
If you are running an ethical business, you should be building an ethical website to serve your clients. And, I believe, it will not hurt to let your customers know that all the cookies you have on your website aren't their favourite double chocolate-chip kind.