Here is an easy, practical and simple tip to add a bit of value to your website.
Add a calendar!
Sounds complicated? Well, not at all.
One of our clients, iXREACH is always out and about, trotting the globe. How they have the stamina to do all this travelling and run a business is beyond me. Anyways, with all this travelling, it was only natural that they wanted a simple tool to keep their clients informed – a simple diary of events indicating the various events planned for each month.
Take a look at the image below: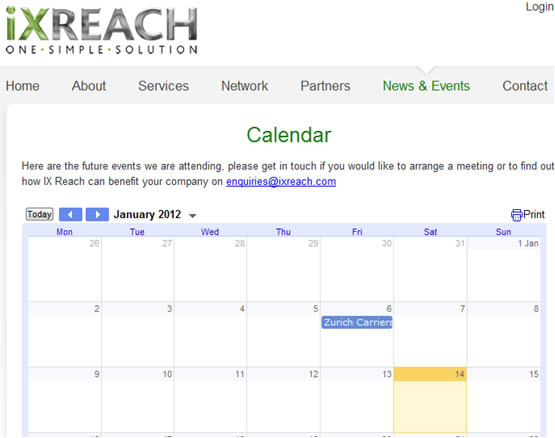 This is in fact very simple to do:
Go to uncle Google
Open up a new Gmail account, which will give you a calendar
Enter your planned events
Click a few buttons to make your calendar public
Copy the "code" that Google provides to add to your website
Paste the code into a web page
And, Voila! Your job is done. Now, all you need to do is keep updating your calendar, and your website page will display the new events you have lined up for the year.
If you attend exhibitions, conduct training courses, give talks etc. – then this little tool is the perfect solution to help you communicate the news to your current and prospective clients across the globe. After all, your website is your biggest window to the world outside.
Now, do you need a little hand in getting the window nicely glazed and polished? All you need to do is give us a tinkle on the old dog and bone. (Translated for our international clients as – "call us"!)