A Quick Overview of Inbound Marketing
Key Concepts
In reality inbound marketing is nothing new
You already know the key concepts
Let's get started
[su_divider style="double" size="12″]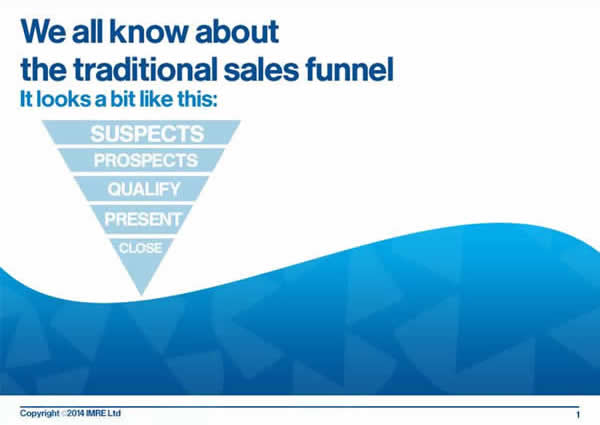 We All Know about the Traditional Sales Funnel…
It looks like this:
Awareness or prospect generation (marketing, sales, and business development teams)
Interest, involving lead qualification (marketing and sales teams, and channel partners)
Consultation and presentation (sales and technical teams)
Justification, resulted from customers' decision to buy (sales, financial, and operations teams)
Proposal followed by action – customers actually purchase products (sales and finance teams)
[su_divider style="double" size="12″]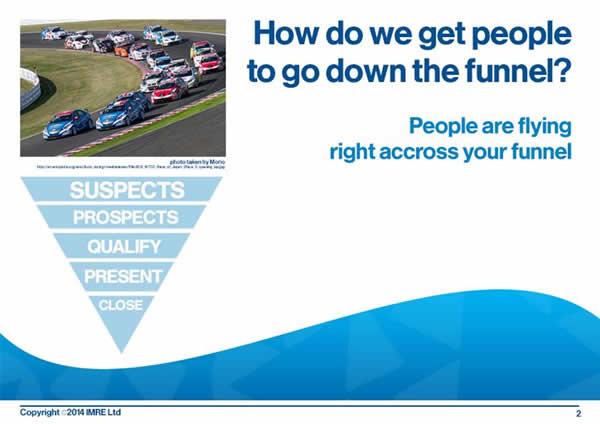 How Do You Move People Down the Sales Funnel (or the "Art of Changing Minds")?
Moving people down the sales funnel is the same thing with lead nurturing.
Best practices in lead nurturing are:
discover your lead prospects
find a connection with them
divide leads into groups to ensure that you reach them at the right time, in the most relevant way
make them feel special (e.g. communicate with them via emails, social media, SMSs, blog posts, etc., respond to questions quickly, and offer incentives)
become an expert in your niche and make the right recommendations to each lead.
[su_divider style="double" size="12″]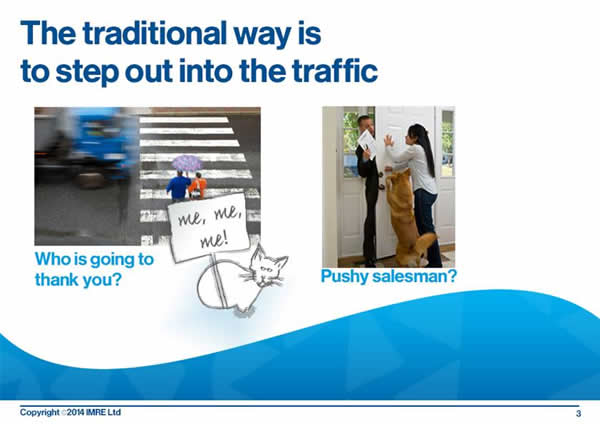 How About Going the Traditional Way and Stepping Out into the "Traffic"?
Some traditional (outbound) lead generation and nurturing practices are:
list acquisition
cold calling
direct mail
mass mailing
print advertising
broadcast media
meeting and seminars
trade shows
word of mouth
door to door
Should you go for traditional marketing tactics to source and nurture leads?
Maybe is not such a good idea, considering that traditional lead generation and nurturing methods generated only 22 percent of the total customers in 2013, according to a report from HubSpot.
Therefore, gone are the days of using traditional marketing to persuade people to do business with you. Potential customers are already searching for your products or services; but if your business is not properly advertised online, they will probably never find the answers they are looking for.
[su_divider style="double" size="12″]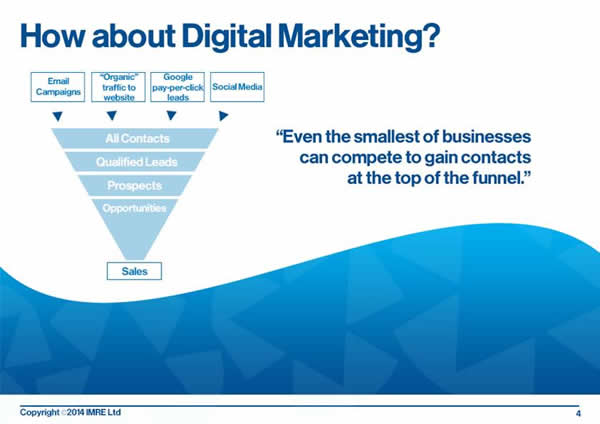 How about Digital Marketing?
When the right digital marketing strategy is implemented, it will translate into:
lower costs, compared to traditional, outbound marketing
greater brand awareness
increased traffic to your website
more credibility among prospects and leads
higher lead-to-customer conversion rate
more sales and a higher ROI
By using digital marketing techniques, you can be seen not just as an expert in your industry, but also as a company focused on helping customers by providing the best solutions to their problems.
[su_divider style="double" size="12″]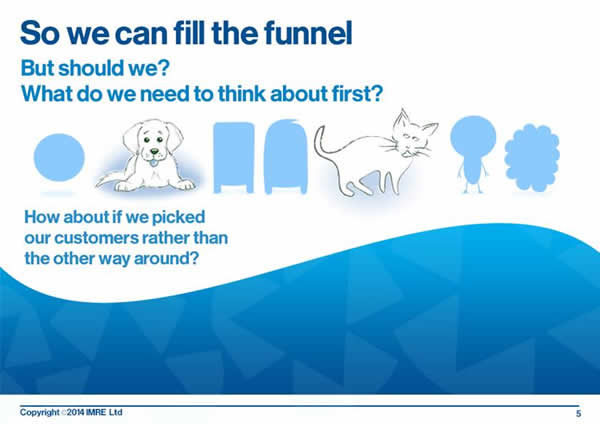 You Are About to Fill Your Funnel. But Should You?
Is there anything else you should think about?
How about choosing your prospects, leads, and customers instead of letting them choose you? Can you do that? Sure.
Here is how:
define your buyer personas
identify their pain points
create a marketing strategy that focuses exclusively on their needs and wants
ensure your potential customers can find your website easily
create high-quality, compelling content (articles, blog posts, whitepapers)
be ready for the people who will contact you
develop a lead nurturing plan
By doing all these, you will position your company to be found online easier and, even more important, capture the interest of your prospects, persuading them to become leads and customers.
[su_divider style="double" size="12″]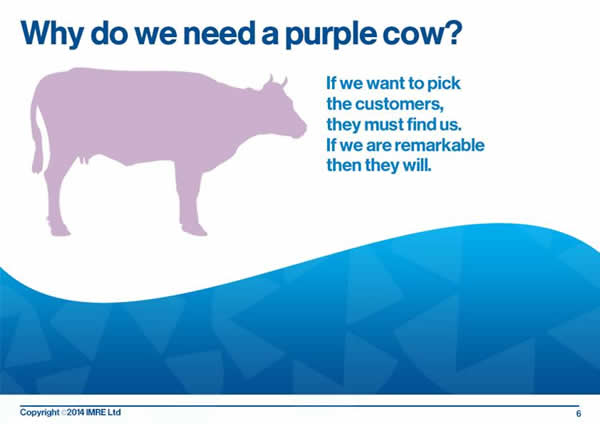 Turn Into a Purple Cow and People Will Find You…
instead of your competitors.
The Purple Cow concept promoted by Seth Godin could help distinguish your business from the competition by ensuring that your products or services have the same impact as a purple cow in a herd of brown cows. But what does it mean to be a purple cow? It simply means to differentiate from others by promoting:
winning ideas that become viral (just like the Purple Cow concept introduced by Godin)
exceptional, new, unique, and interesting products and services worth noticing
excellent business strategies backed up by reliable, qualified workforce
A few valuable takeaways:
being different starts with innovation and takes courage
being different means being credible, tech savvy, and create the "wow" factor
being different does not mean practicing pure marketing; it simply means becoming a purple cow by reinventing yourself continuously
[su_divider style="double" size="12″]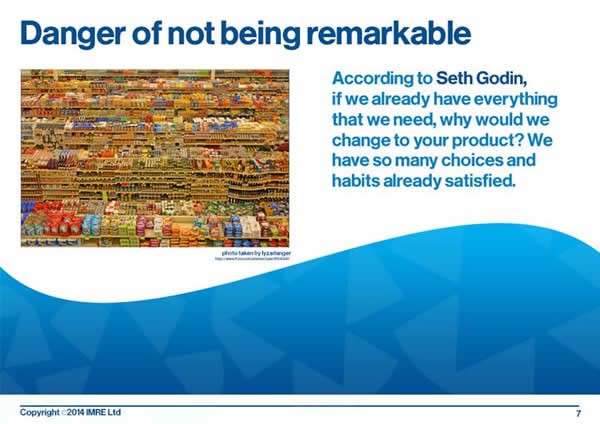 The Dangers of NOT Being Remarkable
In an over-supplied market, it is very hard to compete when all companies have the same objectives: to make money, grow, and thrive. On one hand, everyone knows that finding a way to stand out of the crowd is a must; on the other, most businesses prefer the comfortable "stuck-in-a-rut" approach, offering boring products to bored customers.
You can also be boring…
In this case, you will:
fail to attract new customers
get less revenue
lose the customers you already have
burry your business
…or you can be remarkable.
From a business perspective, this means offering customers something unique, fantastic, and exciting yet useful.
Remarkability – what does it mean for you?
It simply means:
gaining more customers
driving business growth
making more money
becoming successful in business and life
Yes, remarkability means change; and change involves risks. However, remarkability is the only "ace" you have up your sleeve to persuade customers to buy from you, to try your products or services, even though they already have what they need.
[su_divider style="double" size="12″]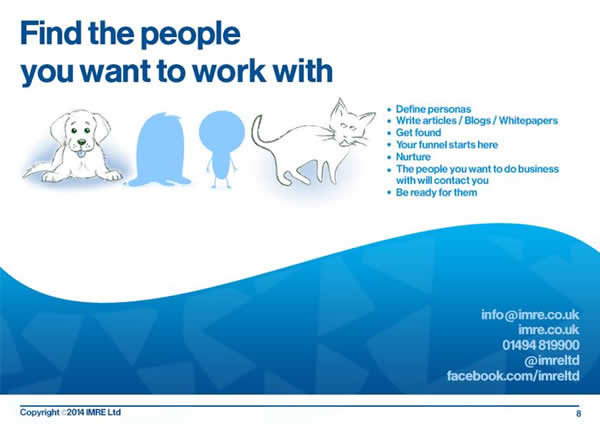 How Can You Find the People You Want to Work With?
By simply:
defining your target audience to discover who they are
making your site more visible (write articles, blog posts, and whitepapers, create Facebook posts and tweets, post on forums, etc.)
encouraging prospects to try your products or services
building up your sales funnel
developing a lead nurturing strategy
making customers feel welcome and valued every time they approach your business
What do you think? Is inbound marketing right for you? Contact us to find out.