Explore our Bot and discover how some of these ideas and thinking could apply to your project
Our own research into Conversational AI and chatbots led us down a path of frustration. We were able to take out trials and code up simple actions such as booking appointments. At no point were we offered a mechanism to play with something that had clear intentions. With this page, therefore, we would like to offer you a way to test our chatbot with some explanations what the bot is supposed to be able to do. You can then judge for yourselves whether or not the objectives have been met.
Please use the navigation on the right to jump to the relevant descriptions. We would recommend that you have two browser windows open. One to for the chatbot and one to read this page for explanations
Answer basic questions
Charliebot should be able to deal with the most basic questions that relate to this website and our services. We should not expect a website visitor to spend lots of time visiting multiple pages in an attempt to understand what we do. The visitors in their own minds will  already have an idea of what we do, and, we should simply help them reach their own conclusions. The following are basic questions we can expect that need answers.
What do you do?
Can you explain your services?
What are the basics of chatbots?
How can I contact you?
How can I find out more?
What do you charge?
What are your prices?
How can I engage you?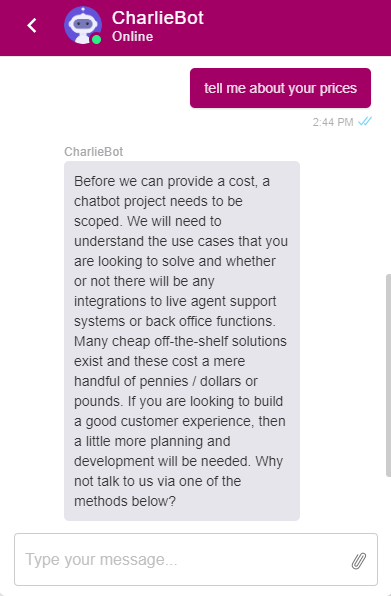 Explore chatbots
We should expect that a website visitor came to our website for a specific reason where they need help. Their main question will be centred around whether we will suitable for them. We should therefore allow our visitors the chance to explore the functionality of our product.
FAQ
One of the most useful aspects of a chatbot it its ability to answer questions. We should therefore think carefully about the questions that we will need to answer. Even better if we can dig through previous communications and refer back to support tickets, then we are likely to unearth important information that can be loaded into the bot. In this test drive we have decided to concentrate on chatbot questions.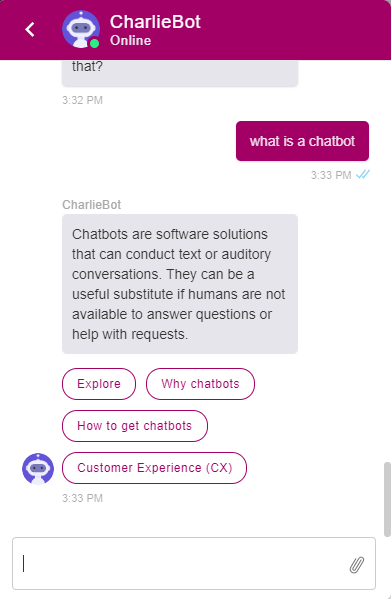 How to engage in the sales process
At some point a website visitor will wish to engage in the sales process. We should be able to detect this intent and then guide our visitors to make contact with us. Contact could mean live chat, email or telephone. The user should be offered as many options as possible and at the right time. We need to enable the engagement process in a way that works for them.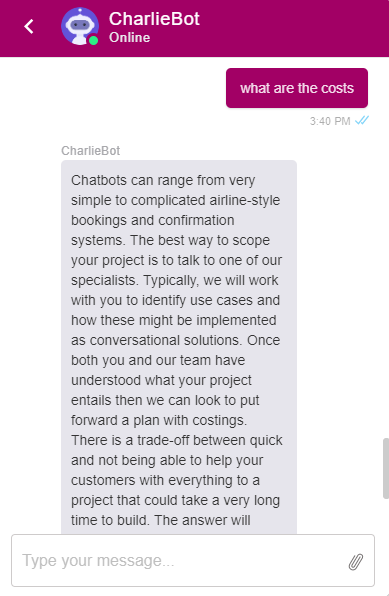 Second net
This use case is for us, it is one of the main reasons why we have our own chatbot on our website. We could be driving traffic to our website via offline and online activities such as google paid search, facebook ads, newsletters or other social media actions. It is possible, quite normal even, that the initial interest does not translate to conversions via traditional methods such as landing pages. The chatbot therefore has to support the first stage activities by offering a second bite at the cherry. No specific coding is needed to set up the second net use case other than having  made sure  that the various other use cases have been developed to a good standard.
Book an appointment
This is a straight forward use case and could be solved in a number of ways:
We could set up some kind of dialogue with an agent or,
Start an email exchange or,
Encourage the setting of an online diary appointment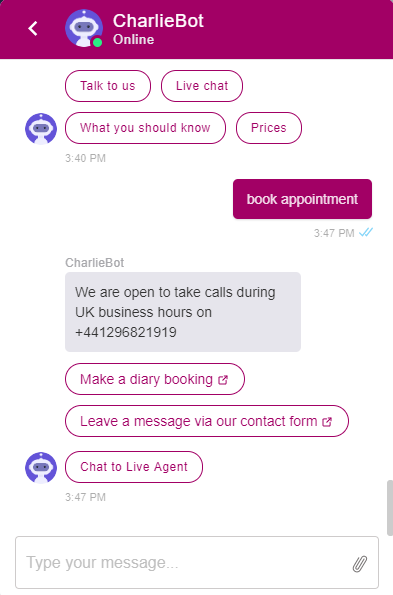 Signup to newsletter
In marketing we understand that not everyone is ready to buy from you right now. Everyone has their own timelines and buying cycles can be very different from company to company. Some way of maintaining contact with visitors is needed once their permission has been gained. Drip feeding activities can be engaged to stay front of mind with the person until they  are ready to take conversations further. Newsletters and Email marketing  are well trodden paths and tactics to facilitate the process of staying in touch until the customer is ready to take things further.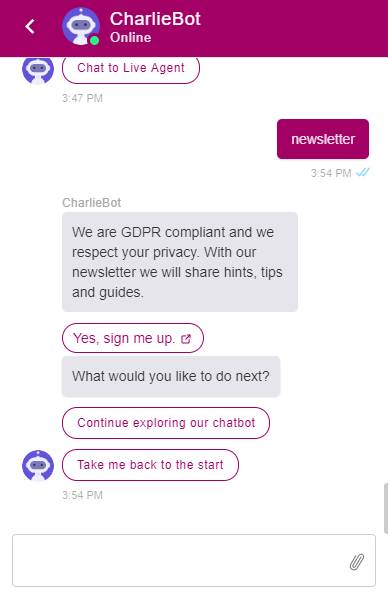 Bot to agent to handover
No matter how good your chatbot is, there will be a time when your website visitor will want to engage with a human. Rather than make this process difficult, and with best CX in mind, we should simply make the bot to agent handover as smooth as possible.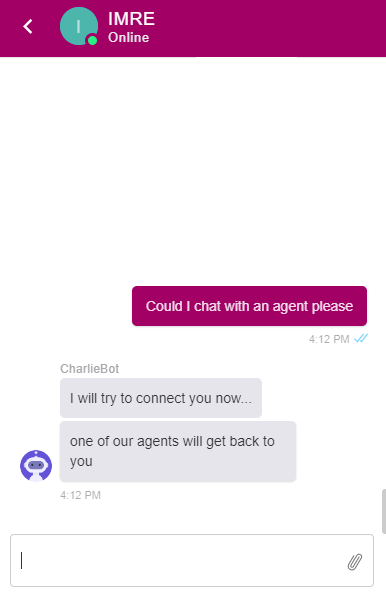 Contact us
If you would like to find out more, why don't you contact us via our chatbot.